Product Details
The 6 Port Multi USB HighQ Fast Charger for Nokia E5 is designed to combine all your charging needs for all your electronic devices including your Nokia E5. With massive 20 watt of power, this charger will simultaneously powers up-to 6 devices with no power shortage.
Thanks to the HighQ Smart Auto Amphere selection, you don't need to worry about which port you need to use for charging your Nokia E5. You can plug your phones, camera, tab, iPod in any port and the charger will auto-detect the current requirement of the device. Each charging port smartly identifies the device connected and its input ampere requirement and choses the best charging method to charge the device at fastest & safest speed possible.
Mobile phones, cameras, tablets, MP3 players or any other 5V USB input device, no need to carry multiple chargers. Just use this 6 Port Multi USB HighQ Fast Charger for Nokia E5 for all your needs. Easy charging accessibility for the entire family at once, at one place. No more short of power sockets, no device in waiting for charge and no more keeping watch on charging at various places. 6 port of USB power right on your desktop with the latest Fast Charging Technology.
6 At A Time


Yes, charge up-to 6 devices at a time (simultaneously), including your Nokia E5 with this great revolutionary 6 Port Multi USB Charger.

Specially Designed for Nokia E5


This charger is specially designed to suit the charging requirements of Nokia E5.

Latest HighQ Fast Charger Technology


With the latest HighQ Fast Charge Technology, charge your Nokia E5 at the optimal speed saving you time and efficient charging.


Overcharge Protection


The HighQ technology prevents the phone from being charged at a higher ampere current than what it is designed for. It understands the need of the device and adjusts the current accordingly.


Easy On-Off Switch


Thanks to the design and compatibility, you can use the Universal Mobile Stand with your Nokia E5 and navigate through the traffic without need to handle the phone again.

Convenient To Use


Unrivaled comfort, with easy to use. Just plug into any port and the charger will auto detect what ampere current to charge the device at.


Quality with Durability


Constructed with high quality material and latest technologies, the charger is the best in class product and a nesecity for everyone with multiple devices.


Plug It Anywhere


The 6 Port USB Desktop Charger comes with a widely used 2 pin socket and with a long cable length of approx 1.5 meters.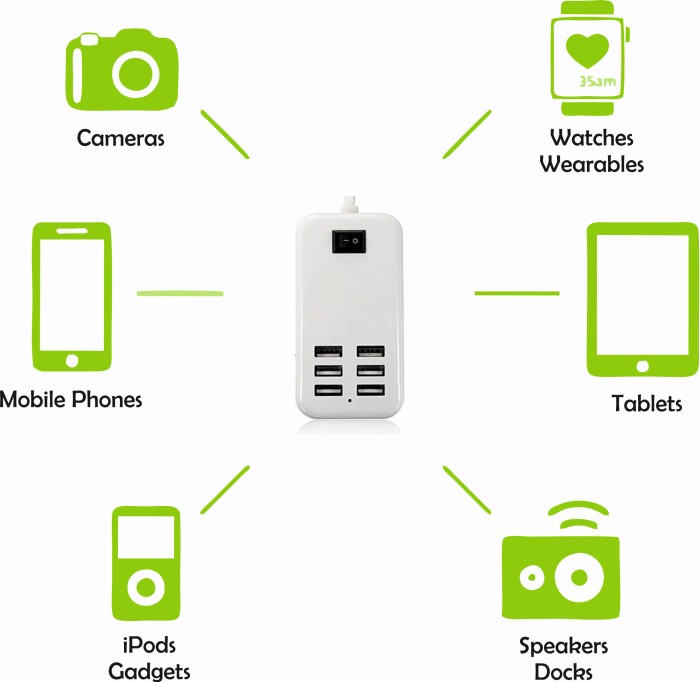 Features:
Charge 6 devices at one go.
Specially designed to suit the power requirements of Nokia E5.
Easy on-off front switch. Long cable length (1.5 meters).
Ideal for travel, home or office use.
Quick charge with Latest HighQ Fast Charger Technology.
Pocket size, compact, lightweight, durable, easy to take anywhere.
HighQ Smart Auto Ampere selection depending on device requirement for fast charging.
High efficiency and low energy consumption. Protective circuit to prevent overcharging.
Use your existing USB cable for charging your Nokia E5 (cable not included).
Simply plug it into an wall outlet and charge through a proper USB cable.
Specifications of 6 Port Multi USB HighQ Fast Charger for Nokia E5.
IN THE BOX
Sales Package
1 piece 6 Port Multi USB HighQ Fast Charger
Type
Brand New
COMPATIBILITY
Compatible Brand
Nokia
Compatible Model
Nokia E5
specifications
Input Voltage
110 to 240 Volt AC (50~60 Hertz)
Output
20 watt of DC Power at 5 volts
Weight
Light weight with pocket friendly design
availability
Availability
Available to order
Fulfillment Ratio
Click here
WARRANTY
Covered in Warranty
Yes, Manufacturing defects only
Warranty Summary
1 Month Warranty
Warranty Service Type
Send to seller by courier
Warranty Details
Click here
Customer Reviews
No recommendations yet
Would you recommend this item ?
Be the first one to write a review
Shipping Estimation
Due to the corono virus outbreak and human resources shortage, orders might take more than then expected time to get delivered. We apologise for the inconvinience caused. The estimation is just an approximate and can depend on various factors.
Delivery Time of the product:
The delivery time of the product depends on the availability of the product & the shipping method selected at the time of checkout. In most cases, when an order is received it is sent to our ordering department & is completed within the time shown while making the order.
For any further clarifications, please contact us here or call us on 09599197756
Go Back to Product Details