Product Details
Missing out the action in dark? Not able to take good selfies due to poor flash in your Nokia G20? New Selfie LED FLash Light ET22 for Nokia G20 is here to solve all the problems. This external handy selfie flash is extremely powerful and useful, allows you to take that perfect selfie, be it in a group or solo selfie. It comes in various colour and has a small and compact design with ultra light weight.

Designed for Nokia G20.
Portable multi functional mini flashlight built-in 16 LED bulbs.
Remarkable effect in case of insufficient lighting for photography.
Built-in rechargeable battery, will not be consumed power of the smart phone.
3.5 mm headphone plug.
100% brand new product and high quality.
LED Flash
With this Maxbhi LED Selfie Flash Light for Nokia G20 and its 16 LED's embedded, you can take photo's and full length video's without worrying about dim lighting. Get the correct and enough brightness with adjusting the correct level of brightness.
Designed for Nokia G20
Specially designed to work with Nokia G20, you don't need to worry about device compatibility. All you need to do is just order and attach this LED Flash Light to your #muid_name and start taking selfies.
Battery
This external LED flash light from Maxbhi comes with an internal battery. You just need to insert this device in your phone and you are ready to take bright selfies. With a single charge, it can help you take a lot of pictures.
Use for Photo's & Video's
These powerful LED lights can easily replicate bright light and take pictures of great quality. It can be used for both photo and video mode. This LED Selfie flash light comes with a on and off switch that can be operated without any hassle. Now, make beautiful memories and take pictures or videos to cherish them forever.
IN THE BOX
Sales Package
1 flash light with 16 LED's, 1 USB charging cable

Type
Brand New

Packing
Box Pack
COMPATIBILITY
Compatible Brand
Nokia
Compatible Model
Nokia G20
SPECIFICATIONS
Light Mode
3 Mode: Low, Medium & High
Flash Type
16 LED Bright Flash Light
Weight
Very Light
AVAILABILITY
Availability
Available to order
Fulfillment Ratio
Click here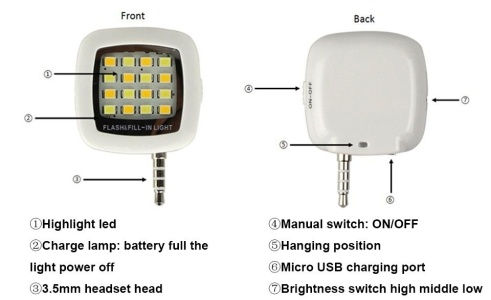 Warranty
| | |
| --- | --- |
| Covered in Warranty | Yes, Replacement Only. No Returns |
| Warranty Summary | 10 Days Testing Replacement Warranty |
| Warranty Service Type | Send to seller by courier |
| Warranty T&C | Click here |
| Country of Origin | China |
Shipping Estimation
Expected delivery by: Tue, 12th Dec (if ordered within 6 hrs 31 mins).
Delivery Time of the product:
The delivery time of the product depends on the availability of the product & the shipping method selected at the time of checkout. In most cases, when an order is received it is sent to our ordering department & is completed within the time shown while making the order.
For any further clarifications, please contact us here or call us on 09599197756
Go Back to Product Details
Customer Reviews
Be the first one to write a review